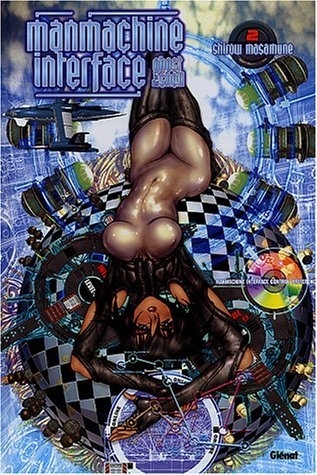 ManMachine Interface
de Masamune Shirow
2002-2003, Glénat, 2 tomes
L'histoire :
J'ai renoncé à la comprendre. Mais pas que moi : Shirow également.
Ce que j'en pense :
C'est mercredi, jour de RTT, j'ai un peu de temps… il faut que je rapporte à la médiathèque les deux tomes de ManMachine Interface, la suite de Ghost in the Shell, et je ne l'ai même pas fini. Enfin si : j'ai tourné toutes les pages, et je les ai même regardées. Assez longuement pour certaines. J'irai même jusqu'à admettre que j'en ai admirées. Mais lues… Franchement, je reconnais ma défaite.
En principe, terminer une bande dessinée ou un manga ne doit pas demander d'aptitudes particulières. C'est vrai quoi : je vais paraître rétrograde, mais fondamentalement, l'objectif principal reste quand même, pour le lecteur, de se distraire. Et il est prévu, quand on ouvre un album, d'entrer dans un univers codifié, notamment dans son principe même : une histoire, racontée par des images dans des cases, avec du texte dans bulles. J'enfonce toutes ces portes ouvertes parce que j'ai besoin de me reposer le cerveau, et de me rappeler à moi-même quelques vérités de base.
Bon. Alors qu'est-ce qui cloche? Avec ManMachine Interface, Masamune Shirow donne l'impression d'avoir oublié ces règles de base. Intentionnellement.

L'histoire : probablement assez simple, grosso modo on prend le personnage de Kusanagi après sa dernière transformation et on le trimballe vers une nouvelle transformation. Entre les deux, se déroule une sorte de jeu vidéo dont le script prévoit l'affrontement de boss de niveau, le tout étant noyé dans des digressions de philosophie orientale et un flot de vocabulaire technologique inventé pour l'occasion, dont seuls quelques experts ès cyberpunk apprécieront la variété. En outre, le changement permanent de dimension et de perspective que Shirow impose à ses personnages rend rapidement impossible leur identification. C'est bien joli de disserter technologie, mais il aurait fallu accorder aussi un peu d'importance à la personnalité. Quand on pense que la personnalité est prétenduement un des sujets qu'aborde ce manga…

Le graphisme : d'une virtuosité sans égale, il oscille entre, d'une part, dessin traditionnel à la plume et en noir et blanc, et d'autre part, images de synthèse entièrement conçues par l'ordinateur, en bousculant la page jusqu'à changer perpétuellement le sens de la lecture.  
Le résultat est que l'esprit comme l'oeil se fatiguent très vite à tenter de suivre le fil de l'intrigue ; et lorsque le premier décroche, le second se promène sur les planches sans enregistrer autre chose que la maîtrise de l'artiste. En fait voilà, c'est ça : ManMachine Interface n'est plus un manga, c'est un art-book. Masamune Shirow nous offre à chaque case un déferlement de jolies filles à poil dans toutes les positions (enfin, à poil : y a pas de poils d'ailleurs), sans la moindre scène de sexe cependant, créant une sorte d'érotisme glacé, qui m'a laissé froid.
Le charme des mangas vintage de Shirow (Ghost in the Shell, Appleseed) venait d'un mélange réussi d'humour, d'érotisme, d'action et d'invention, le tout avec du sens. Dans les meilleurs moments de ManMachine Interface, paradoxalement ceux dessinés à l'encre, j'ai retrouvé une partie de ce charme perdu. Avec nostalgie. Reste un exercice de style graphique, qui n'arrive pas à dissimuler le fait que Shirow n'a plus rien à raconter, à se demander si ce n'était pas là le message principal qu'il souhaitait nous adresser.
Bon, je vous laisse, je vais faire un saut à la médiathèque, j'espère pour une meilleure pioche cette fois.