L'Épée de Vérité (the Sword for Truth)
Shuranosuke zanma ken – Shikamamon no otoko
d'Osamu Dezaki
chara design et animation : Akio Sugino
Promise/Toei Vidéo, 1990
DVD AK Vidéo
OAV de 51 mn
L'histoire :
Durant l'ère Edo, la princesse du clan Nakura est enlevée par d'audacieux et puissants ninjas, les Seki, qui massacrent sans pitié tout ceux qui leur barrent le chemin : samouraïs, soldats, femmes et enfants. Les ninjas Seki espèrent exercer un chantage sur le clan Nakura, dans le but de leur prendre une épée de légende, dotée peut-être d'un pouvoir mystérieux… Pour sauver la princesse, le clan Nakura n'a plus qu'un dernier recours : engager Shuranozuke Sakaki, le ronin invincible…
J'évacue tout de suite l'ambigüité : cet anime n'a aucun rapport avec le roman L'Épée de Vérité – the Sword of Truth de Terry Goodkind, dont la parution a débuté plus tard. Point.
Ce que j'en pense :
Coïncidence, alors que je terminais de visionner Cobra cette semaine, j'ai enchaîné aussitôt avec cet OAV méconnu du même réalisateur, Osamu Dezaki, toujours avec Akio Sugino au design et à l'animation. Avec une affiche aussi prometteuse, pas de déception possible pensais-je. Mais en fait si. Enfin un peu. Vous allez comprendre.
D'abord quelques précisions : L'Épée de vérité est un pur anime de sabre, on peut difficilement faire plus tranchant, même : les 50 minutes génériques compris sont presque exclusivement au service de l'art du sabre de Sakaki, prototype du ronin imbattable en combat, au sombre passé et au caractère impassible. Et que ça tranche, découpe, décapite, éviscère, avec style certes, mais sans rien nous épargner. Les combats sont d'une grande intensité, très dramatisés à défaut d'être réalistes : l'assaillant charge sabre au clair (ou avec des armes de ninja), Sakaki se met en position, le sabre encore dans le fourreau, un jet de sang noir, et c'est fini. Les
morceaux d'adversaires retombent, souvent au ralenti, ça rigole pas. Petite variante, des fois le malheureux ninja/monstre/soldat (cochez la case correspondante) finit entier, mais légèrement vidé de son intérieur, qui se déroule sur le sol comme après un seppuku. Hmm, je tape ce texte juste avant d'aller déjeuner, j'espère qu'il n'y pas boudin à la cantine. Mais je m'égare. Désolé.
Donc je disais? Ah oui. Côté charcute, l'Épée de vérité remplit parfaitement le cahier des charges. D'ailleurs, les combats deviennent de plus en plus hénaurmes à mesure qu'avance l'anime : au début réalistes (si on considère réaliste qu'un tigre gros comme un hippopotame se balade dans les rues d'Edo), les adversaires de Sakaki sont de moins en moins humains, et ressemblent de plus en plus à des monstres (voir ci-contre), tous droits sortis du cortège des Yokai – dont des représentations traditionnelles sont d'ailleurs visibles à plusieurs moments de l'anime. L'ambiance bascule donc progressivement d'une apparence de vérité historique (des références au contexte politique du règne de Tokugawa Iemitsu, troisième Shogun de l'ère Edo, et à la répression de la révolte de Shimabara, des paysans catholiques), à  une atmosphère fantastique irréelle, sans explication particulière. Certains ninjas Seki sont dotés de pouvoirs surnaturels, capables presque de voler, ou de jeter des sorts. Le tout comme dans un rêve, ou plutôt un cauchemar, accentué par les ambiances nocturnes angoissantes, et par les décors oniriques (cimetières, temples shinto, lacs où flottent des nénuphars ou des lanternes…).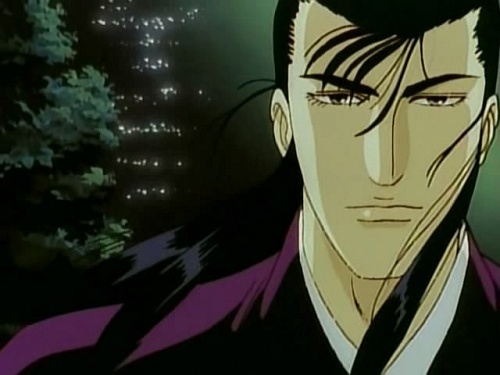 C'est très spectaculaire, parfois très beau, parfois grotesque, et je me suis laissé emporter par le torrent de violence parfois tempéré par des scènes érotiques raffinées, dont une entre femmes qui consomment de l'opium, sans que je comprenne bien ce que cela avait comme rapport avec l'ensemble? Car c'est là que le bât blesse : le film est inachevé, clairement, et ouvre de trop nombreuses pistes inexploitées, sans que les indices ne permettent de deviner où les auteurs veulent en venir. On voit même apparaître certains personnages apparemment importants, juste pour une scène, et hop au revoir, et à la fin un genre de diable ricanant à côté d'une croix catholique en feu? Hey, what the…? Bon, il n'est pas exclu que ce n'était qu'un pilote, ou un premier épisode pour une série d'OAV
qui n'a pas vu le jour, et peut-être que l'histoire est assez connue du public nippon pour qu'il ne soit pas nécessaire d'en dire plus. Je l'ignore. Je n'ai pas réussi à trouver des références extérieures. A noter que de la même histoire, écrite par un certain Narumi Takeshi, un drama a été adapté en 1996, sous le titre Shuranosuke zanma-ken: Yôma densetsu (titre anglais : Legend of the devil).
Bref, cette Epée de vérité est une expérience frustrante, mais une vraie curiosité à voir si l'occasion se présente. Moi, il ne me reste plus qu'à mater Ninja Scroll. Et si vous aimez les harmony cells , un petit dernier pour la route :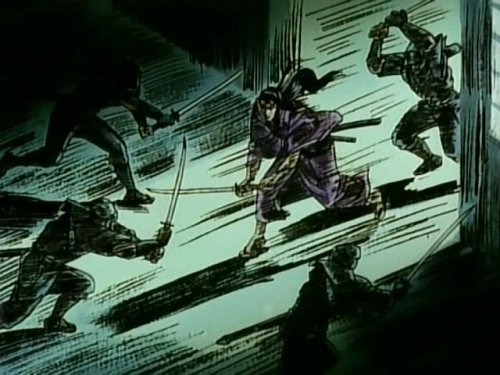 Les titres que je n'ai pas osé donner à cette chronique : Chambara du choix – Chambara avec vue – Sakaki Qui? Osamu 'se comme on peut