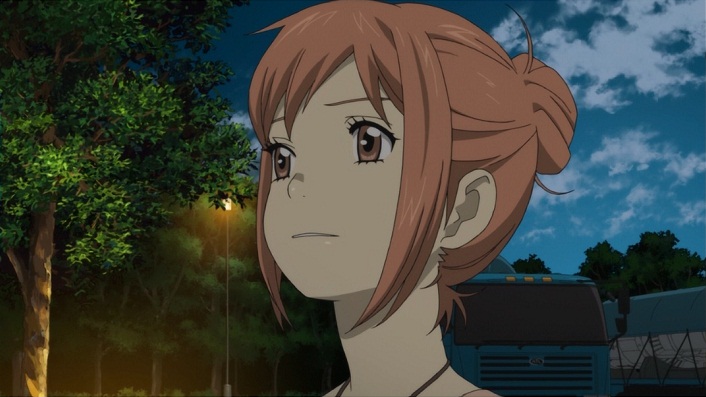 Eden of the East (Higashi no Eden)
de Kenji Kamiyama
chara design de Chika Umino
musique de Kenji Kawai
& School Food Punishment
série en 11 épisodes
+ deux films : The King of Eden & Paradise Lost
Production I.G. 2009-2010

(Les titres que je n'ai pas osé donner à cette chronique : Bourne to be wild – La pétoire dans la peau – Johnny got his gun – Nevermind the Johnnys – Oasis, Oasis oh – Il faut réviser Seleçaõ – Quel gâchis, no Eden)
Ce matin, je me suis encore réveillé en fredonnant la mélodie de Light Prayer, de School Food Punishment, et je sais qu'elle sera vissée dans mon crâne pour la journée entière. Ça fait plus d'une semaine que ça dure. Ça devient gênant. Je pense que c'est un signal, un dernier avertissement, « mets-toi une bonne fois pour toutes devant ton clavier et tape-là, cette chronique. » Au cas où vous l'ignoriez, il s'agit de la chanson d'ending de The King of Eden, le premier des deux films qui font suite à la série. Et comme il n'y a pas de raison que vous y échappiez vous non plus, allez hop, je vous la colle ici (version MEP raccourcie).
Mais pourquoi ai-je autant de mal à la rédiger, cette chronique? Flemme? Mauvaise organisation? Non, j'ai ces défauts de manière chronique, et ils ne m'ont jamais empêcher d'écrire. Je crois tout simplement que c'est comme pour Eureka Seven, Haibane Renmei, Serial Experiments Lain ou Paranoia Agent, ou dans un autre genre (gloups), Texhnolyze : il me faut quelques jours de latence pour analyser et réfléchir à ce que je viens de voir. Signe que la série m'a profondément remué, et qu'elle a continué à vivre en moi pendant plusieurs jours avant que je sois capable de la restituer, et de passer à autre chose.
Donc voilà, Eden of the East, je le dis sans ambages (et d'ailleurs je ne sais pas ce que c'est, des ambages, donc je ne peux pas en avoir, CQFD), est un des anime les plus intéressants et aboutis que j'ai vus. J'inclus les deux films dans la série, bien sûr. J'ai bien lu quelques critiques des uns et des autres concernant cette série : « incompréhensible » « manque de rythme » « bâclé » « fin en queue de poisson » blabla. Je ne suis pas du tout de cet avis. Si je devais un jour donner un exemple d'une série où la forme est en parfaite adéquation avec le fond, je pourrais citer Eden of the East sans hésiter.  Pourquoi?
1 : parce que c'est sans ambages en raison de sa profondeur et de sa richesse thématique,
2 : grâce à sa réalisation artistique, qui est un régal de chaque instant.
Mais tout d'abord, l'histoire :
En faisant défiler les photos prises depuis son mobile, Saki se remémore les onze journées qui lui ont fait rencontrer celui qu'elle appelle notre Prince, et qui s'est sacrifié pour le devenir. Akira Takizawa.
Tout commence à Washington, où Saki, 21 ans, termine son voyage de fin d'études. Elle lance une pièce de monnaie dans le jardin de la Maison Blanche, pour que se réalise un voeu… qu'elle-même n'arrive pas à formuler. Soudain, deux flics l'interpellent, lui demandant ce qu'elle fait là, et ce qu'elle a jeté à travers les grilles. Ils n'ont pas le temps d'aller plus loin, car voilà que débarque de l'autre côté de la rue un hurluberlu encore plus suspect : un jeune type tout nu, souriant jusqu'aux oreilles, qui parle japonais, et qui agite un flingue et un téléphone mobile…
Comme rencontre romantique, on a vu mieux ; mais comme point de départ d'un thriller tordu, ça se pose un peu là… des missiles qui pleuvent sur le Japon, des disparitions de personnes par dizaines de milliers, un mystérieux réseau occulte doté de milliards de yens de budget, des complots politiques à tiroirs, et au milieu de tout ça, Akira Takizawa, le Prince amnésique, terroriste mégalomane ou sauveur désintéressé? Saki, la petite étudiante perdue, se le demande encore…
Eden of the East, une oeuvre politique?
Ce qui frappe, à la vision d'Eden of the East, c'est l'incroyable complexité des thèmes abordés. En 11 épisodes, plus les deux films qui en constituent la conclusion, il se produit autant d'évènements que pourraient en proposer 5 ou 6 séries complètes, voire plus. L'atmosphère générale est celle d'un thriller, avec des scènes qui sont majoritairement nocturnes, et où se déroule une action qui ne s'arrête que rarement, avec des meurtres, des attentats, des poursuites, peut-être un peu plus de dialogues et d'introspection quand se rapproche la fin – mais alors, avec une tension qui ne fait qu'augmenter, à mesure que se succèdent les révélations en forme de twists. C'est exactement comme dans la Mort aux Trousses, d'Alfred Hitchcock (à qui la série rend un hommage explicite, j'y reviendrai plus bas), ou comme dans la Mémoire dans la Peau, d'après Robert Ludlum : le spectateur ne sait jamais totalement ce qui se trame, ni encore moins pourquoi (la théorie du MacGuffin), simplement il le vit, à la même hauteur que son personnage principal. J'ignore si Kenji Kamiyama a lu la bande dessinée XIII, mais c'est une autre comparaison possible : plus on avance, plus on découvre de nouveaux indices, et plus on ne sait rien…
Car tout cela n'est que prétexte. Prétexte à nous balader de bout en bout, à distraire notre regard tandis que l'essentiel est sous nos yeux, et qu'il suffit de s'arrêter cinq minutes pour le voir : Eden of the East est une oeuvre à message, quasiment un pamphlet sur la société Japonaise, ses contradictions, ses peurs, la paralysie de ses institutions, et la superficialité de sa société de consommation qui lui fait perdre ses valeurs. « Rendre le Japon plus optimiste » , c'est ce que dit un des personnages à un des moments clé de la série. Plus tard, un autre dialogue offre l'alternative entre deux visions opposées du Japon : quand l'un dit « les citoyens ne sont rien de plus qu'un moyen d'améliorer le pays, on n'a pas à se soucier de leur individualité » , l'autre répond « je ne me résigne pas, je donnerai une leçon à ceux qui se contentent de ne rien faire. » Cela résonne avec d'autant plus d'acuité avec ce qui s'est passé l'année dernière.
Comme Kenji Kamiyama le souligne dans une interview donnée en 2011 à Manga UK, ce qu'il a voulu réaliser avec Eden of the East est une ode à l'initiative et à l'individualisme, presque un appel à la révolte contre une société japonaise qu'il juge indifférente et castratrice : [traduction du newbie] « Quand j'étais étudiant, j'étais entouré de gens capables d'être des leaders, de fédérer des groupes autour de projets. Mais dès que ces gens entraient dans la société, c'était comme si s'éteignait la flamme qu'ils avaient en eux.  Je me suis alors demandé si c'était la société qui étouffait cette étincelle en chaque individu. (…) Vu que ces gens [les NEETs, ndt] n'ont ni enthousiasme ni passion, leurs vies sont plates. Ils attendent secrètement et passivement que quelque chose d'excitant ou de surprenant arrive, positif ou négatif, pour se sentir vivants. (…) La question est donc : si vous aviez un milliard de yens à dépenser comme vous voulez, le garderiez-vous pour vous seul, ou seriez vous capable de l'utiliser pour améliorer votre pays » ?

Le phénomène des NEETs – ces jeunes japonais qui s'excluent eux-mêmes du monde des études, du travail et de la famille traditionnelle – est au centre d'Eden of the East. Mais de façon ambivalente, autant compréhensive et positive, d'une part, que critique et ironique, d'autre part. Ils sont montrés comme des boulets, incapables d'initiative par eux-mêmes, produits d'une société incapable de leur proposer un autre modèle que la réussite professionnelle et sociale. Mais ils sont aussi montrés comme une force collective, capable de se mobiliser et d'additionner ses capacités pour agir dans un but commun. Mais seulement si un leader est capable de les diriger ; ce qui suppose au minimum de s'intéresser à eux, au lieu de les mépriser.
Parmi les personnages, le groupe que constitue le club « Eden of the East » , dont je me suis demandé longtemps à quoi ils servaient dans l'intrigue, donne un exemple amusant des différentes voies qui s'offrent à la jeunesse japonaise. Nous avons, entre autres :
- un pur nerd (qui se revendique NEET par idéologie, c'est le très sérieux Hirazawa),
- un jeune salarié propre sur lui (qui trimballe cravate et attaché-case, c'est Oosugi),
- une loli surdouée de la programmation (21 ans mais qui en paraît 13, c'est Micchon),
- et un véritable hikikomori (resté cloîtré deux ans chez lui, sous prétexte d'avoir… perdu son pantalon, c'est « Pantsu »).
Pour les deux derniers de la liste, ce sont des hackers, mais je vous laisse juges de la différence de look.



La critique politique se porte également sur les institutions : d'un côté, nous avons un gouvernement incapable et méprisant, dirigé par un Premier Ministre impuissant, tandis que dans l'ombre agissent des pouvoirs occultes, représentés par les seleçao, eux-mêmes manipulés par Mr Outside, un homme encore plus mystérieux, qui n'est pas sans rappeler le personnage de Watari, ce centenaire qui dirige le pays de façon non-officielle dans le roman la Submersion du Japon. Cet aspect de la série est peut-être la plus difficile à appréhender pour un spectateur occidental, il fait référence non seulement à l'instabilité politique chronique du Japon (sept Premiers Ministres différents rien qu'entre 2007 et 2012), mais aussi à la nostalgie latente d'un pouvoir fort et prestigieux, qui remonte bien entendu à l'Ere Meiji (comme un des personnages d'Eden of the East le dit de façon explicite).
A ce sujet, Kenji Kamiyama précise (toujours dans la même interview) s'être inspiré d'un évènement politique des années 60, l'assassinat de Inejiro Asanuma, le leader du Parti Socialiste Japonais, frappé avec une épée par Otoya Yamaguchi, un adolescent fanatique d'extrême droite (meurtre d'une extrême violence, filmé en direct à la télévision). « J'ai été frappé par l'idée que ces deux personnes, Otoya Yamaguchi et Inejiro Asanuma, appartenaient à des partis complètement opposés, mais poursuivaient au fond un même but. Tous deux étaient de vrais patriotes, et l'impossibilité de communiquer entre eux est très symbolique du climat des années 60 au Japon. Je m'étais déjà inspiré de cela pour the Laughing Man dans la première saison de Stand Alone Complex, et pour le personnage de Kuze dans la seconde. Ces personnages essaient de faire le bien, mais leurs actes les font percevoir comme des terroristes. »  Kenji Kamiyama reconnaît qu'il n'est pas insensible aux théories politiques de Yukio Mishima, qui tenta un coup d'Etat nationaliste en 1970 avant de se suicider par Seppuku.
Eden of the East offre donc plusieurs lectures possibles, traduisant les interrogations de son auteur sur la société japonaise (et même au-delà : cf. la référence aux attentats du onze septembre). Ce que j'en retiens, ce sont les nombreuses contradictions qui la rendent difficile à appréhender, et les clés de compréhension que même un anime, donc un divertissement de masse, est capable d'offrir à ses spectateurs. Qui peut encore dire que les anime sont seulement des oeuvres pour enfants ?

Et sur cette image, je ne dis rien pour ne pas tout dévoiler, mais… la classe, non?
Eden of the East, une poème visuel?
Ce serait toutefois réducteur, et très ennuyeux, de ne considérer Eden of the East que comme un brûlot politique. Au-delà du message sous-jacent, il y a une magnifique histoire à laquelle chacun peut s'identifier, grâce à des personnages charismatiques comme rarement, et grâce à une foultitude de références littéraires et cinématographiques, le tout dans une atmosphère d'une grande poésie, et emballé avec un soin remarquable dans la réalisation visuelle.
Tout d'abord, il y a ce point de départ absolument génial, devant les grilles de la Maison Blanche, avec la rencontre entre une jeune fille lambda (mais au caractère bien plus décidé que ne laisse supposer son look kawai) et un héros d'une classe folle, tout sauf ridicule quand il apparaît nu, la quéquette à l'air (mais opportunément dissimulée par un blanc à même le cellulo, ou par des objets du décor) et brandissant un flingue et un téléphone portable. La série puis les films, surtout le premier des deux, King of Eden, ont pour ligne directrice la quête d'identité d'Akira Takizawa, avec l'aide de Saki. Tandis que les mystérieux seleção poursuivent leurs objectifs personnels, et que l'ex-club de NEETs Eden of the East cherche à démêler qui est qui, et qui fait quoi, Akira est balloté entre son but de devenir le « roi du Japon » et celui, beaucoup plus prosaïque, de devenir lui-même.
Ce qui nous offre des scènes d'une grande force émotionnelle, souvent appuyées par des références cinématographiques. Le premier épisode propose un énorme clin d'oeil à Taxi Driver, de Scorcese, mais il sera également question de The Bourne Identity (La Mémoire dans la Peau), évidemment, de Dawn of the dead, de Quadrophenia (film culte des mods basé sur la musique des Who, avec un certain Sting comme acteur alors débutant), du Grand Bleu (rebaptisé the Cold Blue, probablement pour des questions de droits), de Dumbo, etc, etc… Sans oublier bien sûr East of Eden, le film d'Elia Kazan d'après le roman de Steinbeck, dont les thèmes sont l'individu contre la société et ses préjugés (une fois de plus!), et le manichéisme (où commence le mal, où finit le bien?). La cinéphilie n'est d'ailleurs pas seulement un aspect décoratif, mais carrément un moteur de l'intrigue, puisque c'est en partie à travers les films que Takizawa cherche les indices sur sa personnalité et son origine. Elle nous vaut deux passages magnifiques se situant dans des salles obscures, d'abord dans un cinéma de Tokyo (qui sert de base secrète à Takizawa), puis dans un ciné-club de New York, le joli Angelika Film Center, à Soho (image ci-dessous – ce café & cinéma d'art et essai existe vraiment). (NB : Angelika est un nom qu'on retrouvera plus tard… donnant la clé du passé d'Akira).
Personnellement, j'ai été particulièrement touché par les passages se situant à New York. Il est vrai que cette ville représente beaucoup pour moi (voyages, jeunesse… soupir). J'ai toutefois été surpris par la vision d'un New York tranquille, assez irréel (quoique hyperréaliste), décor idyllique pour amoureux en ballade : le Brooklyn Bridge, Gramercy, le petit parc avec un manège… qui est, cette fois, une citation directe de the Catcher in the Rye, alias l'Attrape-coeurs, le roman initiatique de Salinger sur le passage de l'adolescence à l'âge adulte.

Les scènes se situant à Tokyo sont également magnifiques, et très réalistes – pour autant que je puisse en juger, n'y ayant pas encore mis les pieds – grâce à la qualité des décors et à l'abondance de détails, qui donnent une incroyable profondeur de champ à chaque plan. Comme je l'ai déjà dit, les scènes japonaises sont essentiellement nocturnes, parfois
contemplatives, avec des plans d'ensemble et des panoramas urbains que j'ai trouvés très poétiques, parfois inquiétants, parfois mélancoliques… A noter un amusant clin d'oeil : le Starbucks du célèbre croisement de Shibuya a été renommé « Starchild » Coffee. Référence au studio de production du même nom? Seul bémol, à mon avis, certains décors intérieurs me paraissent trop léchés, réalisés avec une 3D trop propre pour se laisser oublier. Pour terminer avec les références, je vous laisse deviner quels films se cachent derrière ces affiches de fantaisie, qui apparaissent deux fois, dans les deux cinémas dont j'ai parlé…
Que dire de la musique? Que les mélodies originales de Kenji Kawai sont excellentes, comme toujours… J'ai particulièrement aimé celle, plus légère que de coutume, qui accompagne régulièrement les scènes romantiques ou de comédie entre Saki (qu'est-ce qu'elle est mimi! J'étais obligé de la montrer en tête de chronique) et Akira Takizawa. Je n'en ai pas la preuve, mais je suis persuadé que cette musique est une citation d'un de mes compositeurs préférés, Burt Bacharach, auteur notamment de la célébrissime chanson « Raindrops Keep Fallin' on My Head » (cliquez ce lien, vous comprendrez!), qui est le thème principal du film Butch Cassidy et le Kid. Oups : je viens de donner la réponse à ma question sur les affiches de film. Bon allez, l'autre réponse est Fenêtre sur Cour, d'Alfred Hitchcock. Of course. Bon, et puis la B.O. d'Eden of the East est responsable de ma découverte, certes tardive, du groupe School Food Punishment, dont je n'arrête plus de mater les vidéos sur ioutioub ' depuis une dizaine de jours. Sans compter que ça m'a presque réconcilié avec Oasis.
Tous ces ingrédients, contenu adulte, personnages charismatiques et attachants, nombreuses références et réalisation admirable s'additionnent pour constituer ce que je considère comme une des oeuvres m'ayant le plus marqué à ce jour. Comme beaucoup d'entre vous, je suppose, qui l'avez déjà vue. Je sais que je m'y replongerai à plus ou moins long terme, et que j'y retrouverai l'atmosphère unique, en y découvrant beaucoup d'aspects et de détails nouveaux, à coté desquels je suis probablement passé sans les relever. C'est à cela, je pense, que l'on reconnaît les oeuvres majeures.