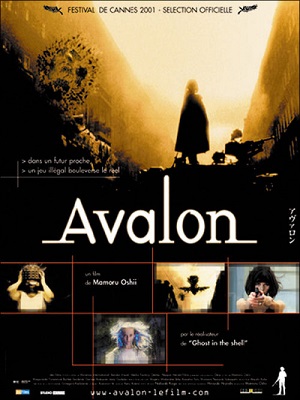 Je vais encore me faire des amis. Cela fait des années qu'on me rebat les oreilles avec Avalon. Que ce serait un chef-d'œuvre, le machin ultime réussissant la gageure de transcender les genres de l'animation et du film live, etc. Mais allez savoir pourquoi, je me suis toujours méfié des critiques dithyrambiques (merci le correcteur automatique, je sais enfin où placer le Y dans 'dithyrambiques'), et ça ne me disait rien. Par exemple, un critique de Mad Movies prétend sans rire qu'Avalon ne se compare qu'à tout Hitchcock, Godard, et Kubrik réunis. Wow. Vous je ne sais pas, mais moi, ça a tendance à me rendre extrêmement méfiant. Pourtant, tout ce que j'ai vu de Mamoru Oshii jusqu'à présent m'a plutôt botté, et parfois enthousiasmé : L'Œuf de l'Ange, Patlabor 1 & 2, Ghost in the Shell & Innocence, Sky Crawlers… Surmontant mon scepticisme, et surtout cédant à l'occasion d'acquérir d'un seul coup les DVD d'Avalon et d'Assault Girls à vil prix, j'ai voulu me faire ma propre idée, et je les ai regardés avant-hier.
Dois-je vous faire le pitch? En fait c'est assez court. À une époque ressemblant à la nôtre, le monde a subi une guerre (ou un cataclysme, ce n'est pas très clair) réduisant la quasi-totalité de l'humanité à la misère et au désœuvrement. Seuls les jeux de réalité virtuelle offrent au peuple l'occasion de s'évader et de se distraire, comme Avalon, une simulation de guerre ultra-réaliste où le joueur doit atteindre des objectifs lui permettant de collecter items et gains financiers. Bref, un MMORPG, sauf que celui-là se joue sur un réseau clandestin auquel le cerveau se connecte directement, et qu'il peut laisser des séquelles irréversibles à ses joueurs. Une jeune femme, Ash, figure parmi les stars de ce jeu, engrangeant des gains énormes lui permettant d'échapper à la misère ordinaire. Elle joue en solo, bien décidée à accéder au mythique niveau caché Special A, à la fois en tant que challenge personnel, mais aussi parce que la plupart de ceux qui y parviennent n'en reviennent jamais…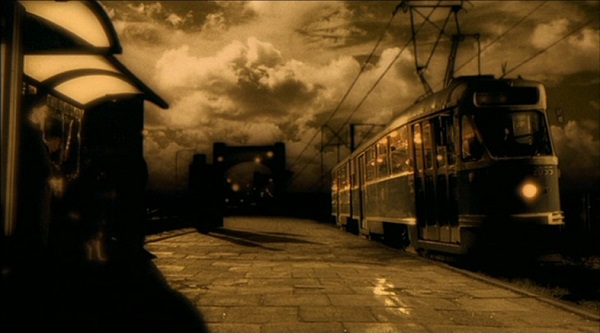 Tout l'intérêt d'Avalon résiderait, si on en croit les fans, dans l'abolition progressive des frontières entre réalité et monde virtuel. En effet, les niveaux ne se ressemblent pas tous, et par moments le doute s'instaure. Sommes-nous dans le monde réel? ou dans le jeu? Le jeu lui-même n'est-il pas la réalité? C'est même un des fondements de l'intrigue, à travers la quête du fameux niveau Special A, que l'on ne peut atteindre que si on rencontre enfin le ghost, un programme à l'apparence de petite fille – ou d'ange, c'est selon. Le film parsème des indices ça et là pour se faire sa propre opinion, sans que cela soit jamais clairement expliqué. Mais très vite, à force d'abolir les repères, à coup d'images ultra-travaillées (les ciels irréels, les lumières bizarres, le sépia omniprésent…) et à cause d'un décalage permanent dans l'attitude des personnages (entre Stunner ou Murphy, qui surjouent, et le Prêtre, qui est inexpressif, seule Ash m'est finalement apparue crédible), j'ai fini par me désintéresser de l'intrigue, pour me concentrer sur l'atmosphère et le design.
Alors, là, oui, j'ai été assez bluffé. Mais je n'ai pas réussi à me départir d'une permanente impression de déjà vu, avec des plans ou des effets qui m'ont moins fait penser à Matrix (référence pourtant assumée) qu'à d'autres films de science-fiction dépressifs, notamment ceux d'Enki Bilal, comme le très sous-estimé Bunker Palace Hotel : mêmes décors glauques de pays de l'Est à peine sortis de la guerre froide, même mélange de technologie et de vintage – j'ai également pensé à Bienvenue à Gattaca, ou encore aux films de Terry Gilliam, comme Brazil ou L'Armée des 12 Singes. Et finalement, si je mets de côté les scènes de combat (celle du début, surtout, réellement prenante), Avalon ne m'a pas semblé si original que ça.
Reste un atout de taille, son actrice principale. Ash, alias l'inconnue Malgorzata Foremniak, possède un charme sensuel et presque animal, qui réussit à rendre intéressantes les scènes les plus anodines, qui sans elle ne seraient que des longueurs : interminables passages à travers des couloirs sombres, leitmotivs (le tramway, les scènes avec le chien) qui sont bien entendu voulus, et typiques de Mamoru Oshii, mais dont la répétition finit par remplir l'espace de façon systématique. Dans la scène finale (attention, gros spoil), le réalisme du niveau Special A tombe complètement à plat, et seule Ash réussit à la tirer de la banalité. En fait elle pourrait faire n'importe quoi, comme préparer un ragoût de porc au chou et au riz, que je la regarderais sans m'ennuyer. Ah, la scène du ragoût fait partie du film d'ailleurs, ça me revient.
Je passe sur l'enrobage mythologique, ici basé sur la mort du Roi Arthur, ce n'est finalement pas plus intéressant ni signifiant que les symboles chrétiens dans Evangelion. On aurait remplacé ça par Aladin et les 40 voleurs, ou par les 12 travaux d'Hercule, ça aurait été pareil. Quant à l'enrobage musical, il participe assez bien au décorum, mais l'oratorio final 'Avalon' (filmé de façon on ne peut plus tristounette, même les spectateurs ont l'air de se faire chier) est d'un académisme affligeant, on dirait du néo-classicisme comme savaient en pondre les compositeurs officiels de l'Union Soviétique sous Staline, beurk. Peut-être la faute des interprètes, la soprano soliste notamment, avec une voix complètement plate, sans émotion. Franchement, je trouve que Kenji Kawai a fait tellement mieux pour les deux Ghost in the Shell, et pour Eden of the East…
J'ai l'air sévère, comme ça, mais en fait je n'ai pas détesté Avalon. Je l'ai même regardé sans m'ennuyer, enfin pas trop – mais au final je le trouve quand même pas mal surévalué. Et par comparaison, Avalon peut aisément passer pour un chef-d'œuvre… à côté de son spin-off, Assault Girls.
Allez vite le pitch là aussi : dans un nouveau niveau du jeu Avalon, trois joueuses surarmées s'associent pour traquer des vers des sables, tandis qu'un autre joueur tente de la jouer solo. Et il y a aussi un escargot. C'est tout.
Assault Girls est un truc assez difficile à décrire. Si j'étais méchant, je dirais que c'est un affligeant nanar moche et sans intérêt où il ne se passe rien. C'est bien du Oshii, mais il a semble-t-il abandonné toutes ses intentions dont il a gavé Avalon jusqu'à le rendre quasiment indigeste : Assault Girls est vide, plat et long comme un jour de jeûne. Le film commence d'ailleurs très très mal. Tandis qu'Avalon laissait s'installer assez efficacement l'ambiance, révélant l'intrigue petit-à-petit, Assault Girls débute par un long diaporama commenté par une voix off qui tient un discours pompeux et incompréhensible, soit-disant explicatif et qui dure cinq minutes. Au cinéma, c'est trèèèès long, cinq minutes de blabla avec des images moches. Ensuite, on a un peu d'action (ça castagne des vers géants tout droit sortis de Dune) et d'interminables scènes où il ne se passe RIEN, mais alors quand je dis RIEN, c'est vraiment RIEN. Genre un personnage marche dans le désert. Longtemps. C'est pas Assault Girls, que le film aurait dû s'appeler, mais Errance Escargot. Ah oui parce que dans un moment de lucidité sur l'intérêt de son œuvre, Oshii a filmé un escargot. Parfaite métaphore du rythme et du suspense qui le sous-tendent.
(Je vous jure que l'image ci-dessus est tirée d'Assault Girls.) Si au moins, comme dans Avalon, j'avais pu me raccrocher à l'esthétique… Même pas, le décor se résume à un unique désert froid, et les costumes sont hideux (on dirait du cosplay  mal fait de San Ku Kaï, sur d'aussi jolies filles, si c'est pas malheureux). Au bout d'une demi-heure, j'étais tenté d'éjecter le DVD mais je me suis dit pas possible, il va bien finir par arriver quelque chose, et bien NON. Il n'arrive rien. Mais comment et surtout pourquoi Mamoru Oshii a-t-il pu entreprendre de réaliser ce truc? A ce niveau ça n'a même pas l'excuse d'être conceptuel, c'est juste chiant comme la mort. Je ne pensais pas qu'un film durant à peine 1 heure pouvait donner l'impression d'en durer au moins 2.
Verdict : Avalon, passe encore, mais Assault Girls, aux chiottes. Le coup de grâce? Ne voulant pas rester sur ce néant, j'ai fini la semaine en me re-matant Blade Runner, histoire de me rappeler que la science-fiction à message, quand c'est bien fait, ça peut être génial.