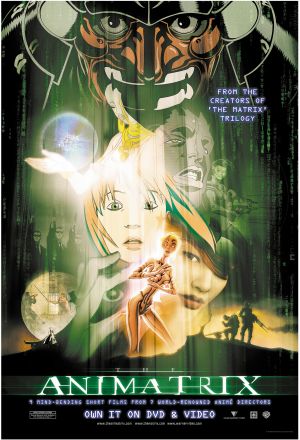 Animatrix est sorti en 2003, il y a presque dix ans, mais je n'ai jamais eu envie de le voir jusqu'à présent. Je dois avouer que la trilogie des frères Wachowski m'avait laissé de marbre, avec ce mélange crispant d'action spectaculaire, d'esthétique de vidéo-clips et de philosophie à la mords-moi le nœud, sans parler des acteurs aussi expressifs qu'un bloc de tofu. Le seul qui me faisait marrer c'était Hugo Weaving, alias agent Smith, avec sa tête de psychopathe cynique et content de lui. Mais voilà, en lisant les numéros spéciaux d'Animeland #5 et #10, j'ai vu qu'Animatrix revenait souvent des les bios de réalisateurs dont j'adore les créations, parmi lesquels Mahiro Maeda (Blue Submarine n°6, Last Exile, Gankutsuou), Shinichiro Watanabe (Cowboy Bebop) ou Yoshiaki Kawajiri (Kaze no Na wa Amnesia, Ninja Scroll). Le DVD ayant fini par tomber dans mon escarcelle à vil prix dans une solderie, j'ai donc surmonté mon désintérêt pour les héros qui font la gueule en RayBan et cuir noir et j'ai regardé ce que ça donne. Que de sacrifices, rien que pour vous.
Et le constat est souvent celui de tous les films à sketches : il y a du bon et du moins bon. Youpi, on est bien avancés. En fait, on peut classer les films en deux catégories (je cite les titres anglais, parce que les traductions françaises sonnent un peu tarte) : 1- ceux qui se contentent de faire du Wachovski animé, en collant au script (Final Flight of the Osiris, The Second Renaissance 1 & 2, A Detective Story, Matriculated), et 2- ceux qui s'appuient sur l'univers Matrix pour proposer une création vraiment originale (Kid's Story, Program, World Record, Beyond). Comme par hasard, ceux de la 1ère catégorie m'ont très peu intéressés, voire pas du tout. Petite revue :
Final Flight of the Osiris
Deux combattants, un homme et une femme, s'affrontent au sabre dans un dojo. Programme d'entraînement virtuel avant le retour à la triste réalité… et une attaque de sentinelles. Avec son titre en Final F, on sait tout de suite à quoi s'en tenir. C'est de la pure image de synthèse ambitionnant le vidéo-réalisme, créé par le studio Square, responsable de Final Fantasy : Les Créatures de l'esprit. Seulement, il ne suffit pas de réaliser une prouesse technique pour faire de l'art… Alors oui, je reconnais que certains passages sont bluffants, mais justement je n'ai qu'admiré, je n'ai jamais vibré. Ôôôô, c'est bô (surtout cadré comme dans l'image ci-dessous). Cette admiration maintient le spectateur à l'extérieur, en refoulant l'émotion. Quant à l'histoire, ça donne juste l'impression de voir une scène coupée au montage de Matrix Reloaded. Baston, effets spéciaux, défouraillage à tout va et voilà… ZZZZZ. Next one please !

The Second Renaissance part 1 & 2
Mahiro Maeda fait son boulot, vachement bien, mais sans s'écarter de la trame. Raconter comment l'humanité en est arrivée à être asservie par les machines, sous forme de documentaire avec images d'archives et reportages est intéressant, on sent la volonté de crédibiliser l'univers étendu de Matrix, en le traitant comme un vrai moment d'histoire, mais le résultat, à part quelques scènes chocs, me laisse froid. Les dites images chocs, d'ailleurs, renvoient de manière explicite à des conflits réels, du Vietnam à l'Irak (on est en 2003) et c'est probablement le message principal de ce court. A noter, tout de même, quelques belles envolées lyriques (belles et grotesques à la fois) évoquant l'Apocalypse de façon quasi biblique, et des allusions subliminales au fanatisme religieux de tous bords. A part ça oui, on est d'accord, la guerre c'est horrible, merci de nous le rappeler.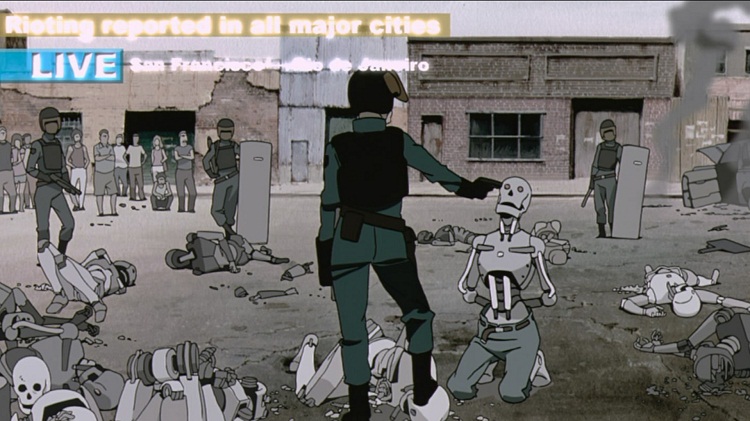 A Detective Story
Ecrit et réalisé par Watanabe, je me dis chouette, celui-là n'est pas directement sorti du cerveau des vaches folles Wach Bros. Je n'ai toujours pas osé clamer ici mon admiration pour Cowboy Bebop, tellement le sujet me semble himalayesque. A Detective Story propose la classique enquête d'un privé hard-boiled, avec force citations de films noirs genre le Grand Sommeil, et utilise tous les codes du genre : noir et blanc, ambiance rétro-futuriste (ordinateurs et téléphones en bakélite), mais c'est tellement déjà vu et dénué d'humour (LE défaut principal de tout l'univers Matrix, en fait, c'est l'absence d'humour : tout le monde tire la tronche tout le temps) que tout est prévisible. Jusqu'a l'image finale, qui est un clin d'oeil évident et touchant à notre Spike Spiegel adoré. Dommage.

Matriculated
Et si les robots pouvaient être reprogrammés pour devenir des alliés des humains? C'est l'intéressant point de départ de Matriculated, dernier court dans l'ordre du DVD français (l'édition US ne présente pas les œuvres dans le même ordre, curieusement). C'est l'œuvre du coréen  Peter Chung, connu pour ses séries Aeon Flux et Alexandre, au style visuel immédiatement reconnaissable. Perso, Aeon Flux m'avait un peu saoulé, à cause de son design clippesque, de ses musiques grinçantes et de son côté très bavard. Pourtant, il y a de l'originalité chez Chung, et ça se voit dans ce Matriculated, qui offre un étonnant délire visuel en 3D et couleurs chatoyantes (après une intro en animation traditionnelle et aux teintes sombres). Mais là encore, c'est d'un regard extérieur et détaché que j'ai considéré la chose, faute de réussir à m'immerger dans un trip cruellement désincarné. Ce que ressent le robot, finalement je m'en fous, quand à la fin elle est tellement abrupte qu'on se dit ah ouais, tout ça pour ça? Placé en fin de programme, c'est une curieuse manière de conclure l'affaire.

Heureusement, il y en a que l'aventure a inspirés, au point de livrer des créations qui pourraient être présentées de façon indépendante. Il s'agit de World Record, Program, Kid's Story, et Beyond. Je m'aperçois à l'instant qu'il y a un autre critère qui les sépare des autres : dans ces épisodes, les personnages évoluent dans la matrice, c'est-à-dire dans le monde virtuel qui ressemble au nôtre. Ce qui permet aux réalisateurs, pour peu qu'ils soient inspirés, de créer des visions inédites en mélangeant environnement quotidien et images spectaculaires de la réalité virtuelle, et ainsi de jouer avec notre perception et notre compréhension des choses. Et d'inventer, ainsi des images d'une beauté parfois étincelante, et d'une intense poésie (là où les courts ci-dessus sont souvent laids).
World Record
L'histoire : un sprinter, détenteur du record du monde du 100 m, tente un dernier défi pour faire taire ses détracteurs. En dépassant ses limites physiques, il va sortir de la matrice et atteindre l'éveil… Mais les agents sont décidés à le garder sous contrôle. Réalisé pour Madhouse par Takeshi Koike, futur réalisateur de Redline (sur un script de Yoshiaki Kawajiri), World Record montre déjà de manière spectaculaire la fascination pour la vitesse, à travers les extraordinaires scènes de sprint sur la piste : décomposition des mouvements, déformation des muscles, masque de l'effort et de la douleur malgré les traits relâchés, le tout d'une manière fluide et esthétique, avec un je ne sais quoi de vintage dans le dessin qui ferait penser à de l'animation expérimentale des années 70. Court et percutant, World Record apporte vraiment du neuf dans la Matrixologie.

Program
Attention, là, on arrive dans l'animation de grande classe. Yoshiaki Kawajiri nous offre une séquence toute droit sortie de Ninja Scroll, un duel entre deux samouraïs, se déroulant tour à tour sur le toit d'un château, dans un labyrinthe de cloisons coulissantes, dans une bambouseraie fantastique… le tout dans une harmonie de couleurs à la palette restreinte mais splendide : rouge, or, blanc et nuances de noir. Le chara design est de Yutaka Minowa, déjà à l'oeuvre sur Ninja Scroll, et le duo de combattants est d'une beauté époustouflante : elle, crinière de cheveux blancs volant au vent, visage à la beauté dure, lui, caché sous une armure lourde de samouraï, au masque grimaçant. Le combat se déroule avec toute l'emphase des duels de chambara, sauts extraordinaires et techniques de fou, dans une ambiance de cauchemar sombre et angoissant. Seul le dialogue et la scène finale rattache ce morceau de bravoure à l'univers Mitrax, et finalement, peu importe : en une poignée de plans d'anthologie, Program est une véritable tragédie, avec ses coups de théâtre et son final inéluctable : la mort de l'un des deux combattants… Mais lequel?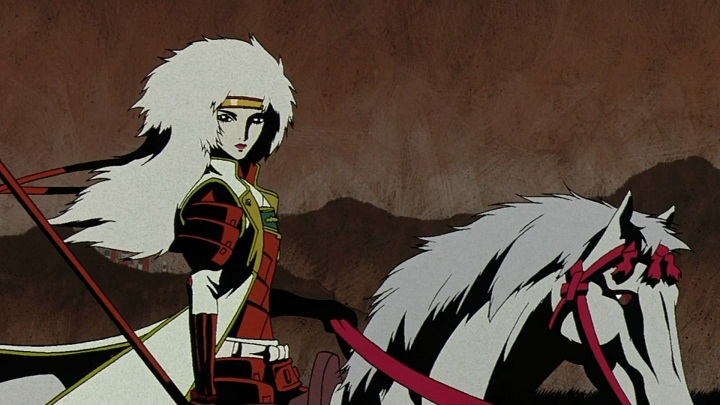 Kid's Story
Bien que basé sur un script orthodoxe des frères Fachoski – un gamin entre en contact avec Néo sur le web, mais les agents tentent de l'intercepter, Kid's Story propose une véritable ouverture extérieure au monde matriciel, prenant la forme d'une course-poursuite haletante entre un étudiant en skateboard et des agents chatouilleux de la gachette, dans les interminables couloirs d'un campus encombré, se terminant sur un toit… En fait, dès que Matrax se débarrasse de la fisolo polyfolie fophilosie ah merde phi-lo-so-phie, voilà, et se concentre sur ses son point fort : l'action, on arrive a décoller. Ainsi allégé, Martix peut faire l'effet d'un bonbon à l'eucalyptus Fisherman's Friend (avec la baffe en prime) et même, l'espace d'une demi seconde, qui prend l'éternité que dure la chute d'un corps du haut d'un immeuble, peut toucher au sublime. Parachute ou pas on s'en fout, ce qui compte c'est la chute, pas l'arrivée. Comme A Detective's Story,  Kid's Story est réalisé par Shinichiro Watanabe, mais avec autrement plus de punch.

Beyond
Vous aurez compris que je trouve excellents les trois courts que je viens de citer, mais ce n'est rien par rapport à Beyond, le véritable bijou de l'anthologie Animatruc. Rien que pour voir ça en HD, ça vaut le coup de se fader tout ce qui précède. L'histoire : une jeune fille, habitant un studio minable dans un préfa de Tokyo, cherche son chat. Des enfants l'ont vu partir vers un terrain vague, où se trouve ce qu'ils appellent « la maison hantée ». La jeune fille, Yoko, entre dans ce vieil immeuble abandonné, et effectivement, y voit se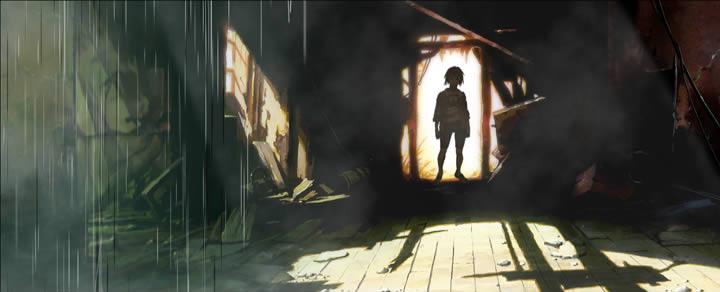 produire d'étranges phénomènes… des objets flottent, dénués de gravité, un pan de ciel s'ouvre dans le toit défoncé et il pleut, alors que dehors il fait grand soleil… Décontenancée, mais nullement inquiétée, Yoko se retrouve dans une cour intérieure où l'attendent le chat, et les trois enfants, qui jouent à faire des cascades au ralenti… Beyond, à la différence de tous les autres épisodes, ne prend pas comme protagonistes des héros ou même des apprentis héros : Yoko, si elle est plutôt jolie, n'a aucune prétention à l'héroïsme, elle veut juste trouver son chat, et en profite pour jouer avec les enfants – elle-même est à peine sortie de l'enfance. Le fond de l'histoire – il n'y a même pas de suspense – est qu'elle et les

enfants sont témoins d'un bug de la matrice, une partie du décor qui contient des anomalies, et qui peut donc être perçue, pour des humains non initiés, comme une maison hantée. Et au lieu d'en rajouter dans la veine fantastique/cyberpunk/désespérée, Koji Morimoto (Robot Carnival, Memories) en fait un pur moment de poésie, une parenthèse enchantée dans un monde de brutes – en fait, ici, la matrice n'est qu'une métaphore du monde matérialiste qui efface, une à une, toute zone non rationalisée, exploitée, nettoyée, et qui fait de nous des adultes blasés incapables de nous émouvoir à la seule vue d'une plume, flottant doucement dans le vent. Bien sûr, il n'est pas interdit de voir, dans Yoko qui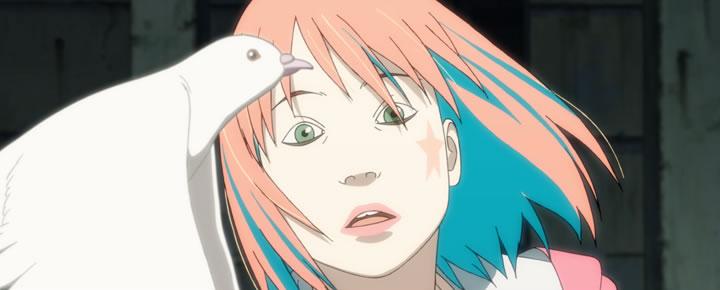 poursuit son chat jusqu'à une maison hantée, un avatar d'Alice passant de l'autre côté du miroir. La dernière image de Beyond est une vue du dessus du célèbre carrefour de Shibuya, les passages zébrés s'effaçant sous les grises silhouettes des passants, tels des abeilles dans une ruche bourdonnante et tournant en rond. Mais peu importe le contexte, finalement : otons Beyond du reste du programme Matatrix, et nous voilà avec un petit chef d'œuvre d'humour et de tendresse, réalisé avec amour.
Zut, je ponds un pavé plein de superlatifs mais j'oublie de vous dire à quel point ce Beyond est beau à regarder. Rien que ça : c'est juste sublime de beauté et de simplicité. Allez, je vous propose un court extrait, ça vaut mieux qu'un long discours, et j'en ai déjà assez dit. Enjoy.