Lors du dernier Salon du Livre de Paris, j'ai assisté à un intéressant débat intitulé « le manga français va-t-il tout changer? » , confrontant quatre projets éditoriaux différents, à savoir : de la création manga conçue en France (Ki-oon, avec Prophecy), de la création manga sur scénario français (Akiba Manga, Japon un an après), du « manga 100% français » (Pika, avec Dreamland), et enfin de la bande dessinée inspirée du manga (Delcourt avec Les Légendaires). Vous pouvez en lire le compte-rendu rédigé par votre serviteur dans le Journal du Japon, pour plus de détails. Parallèlement, j'ai acquis différents titres répondant à la définition fluctuante du « manga à la française », à savoir des bandes dessinées au format manga (volumes de format poche, 180 pages noir et blanc) entièrement écrits et dessinés par des auteurs français. Je n'ai pas la prétention de répondre aux questions posées par le débat, ni de changer votre point de vue sur ce qu'est un manga français, mais je peux au moins affirmer que par leur diversité et leur bonne tenue générale, ils méritent certainement qu'on s'y intéresse. J'ai même été agréablement surpris. Présentation.
Je commence par Dreamland, de Reno Lemaire (Pika), le best-seller du genre « manga français ». Vous notez que je mets toujours les guillemets car on est dans l'antinomie avec cette appellation : le manga étant japonais par essence, parler de manga français est un abus de langage. Mais pour la suite de cette chronique, je suis bien obligé de l'employer. Anyway. Dreamland, disais-je est le numéro un des ventes manga par un auteur français, et reconnaissons-le, Reno Lemaire montre un vrai savoir-faire dans la mise en application des codes manga. Ça marche tellement bien que c'est en cours de réédition, avec des retouches faites au dessin et à la mise en page. Au fait, l'histoire : Terrence est un lycéen en terminale, il doit passer le bac mais sa motivation est au ras des pâquerettes. Dans ses rêves, il est un héros doté du pouvoir de maîtriser le feu, et il affronte d'autres « voyageurs » comme lui, dans un monde magique et sauvage dont personne n'a réussi à dresser la carte… Le médiocre bachelier sera-t-il à la hauteur de son destin?
Ce que j'en pense : que ce soit dans l'intrigue de départ ou dans les graphismes, Dreamland est un pur shonen qui marche sur les traces de Fairy Tail ou de Dragon Ball : héros ado doté de super-pouvoirs qui bastonne dans un monde parallèle, avec des préoccupations de son âge : sortir avec la plus jolie fille de sa classe. Et après? Ben, oui, Reno Lemaire prouve que pour plaire à un certain public, il suffit de lui donner sa came, et nul doute qu'il bosse dur pour cela – succès aidant, il se fait maintenant aider par des assistants et parvient à livrer un tome tous les 6 mois. En soi c'est une belle performance. Mais en ce qui me concerne, je zappe. Je ne suis définitivement pas le public visé, les péripéties bordéliques et l'humour trop lolesque me passent au-dessus, enfin je veux dire carrément en-dessous. Détail qui tue : je n'ai pas compris l'intérêt d'imprimer un « manga français » dans le sens de lecture japonais? Peut-être Reno Lemaire écrit-il de droite à gauche? A-t-il un besoin d'un traducteur? Blague à part, ce détail traduit au mieux une volonté de fanboy d'adopter tous les tics nippons, même lorsqu'ils n'ont aucune justification, au pire ça sent le marketing à pleins nez. Je vous laisse juges.
Vous avez entendu je pense les déboires d'Ankama, qui a sabordé sa collection de licences en cours, sinon lisez cet article. Notez qu'à ce jour, encore aucune annonce n'est faite sur leur site. Faut écouler les stocks… Par contre et heureusement, les séries françaises sont maintenues, Dofus, Appt 44 et City Hall. Je dis heureusement, parce que City Hall, de Rémi Guérin et Guillaume Lapeyre (dont le tome 3 sort cette semaine) m'a vraiment plu. L'histoire : Londres, époque indéterminée (le futur? le passé?). Un monstre géant au pouvoirs dévastateurs attaque la banque centrale de City Hall. Le maire et le chef de la police essaient de minimiser l'évènement, alors qu'ils savent que les moyens conventionnels ne permettront pas de faire face. Leur seul espoir : appeler Jules Verne, et son assistant Arthur Conan Doyle, et leur confier une arme secrète : une plume et du papier… Ce que j'en pense : quelle claque ! Dès les premières pages, j'ai été scotché par l'intrigue, le style, les idées, les personnages, tout, quoi. Je ne sais même pas par quoi commencer. Graphiquement, c'est la rencontre improbable de Death Note (pour le trait) et des Cités Obscures (pour le background), avec aussi quelque chose de la Ligue des Gentlemen Extraordinaires et de Top Ten : the Forty-Niners. Rien que ça. Le terme steampunk est presque trop réducteur pour qualifier ce patchwork génial et original qui pioche dans le 19ème siècle (les costumes, les intérieurs, les mécanismes, Jules Verne, Conan Doyle, Houdini…), dans les années 1920-1930 (les gratte-ciels, les avions, les voitures, Al Capone, Amelia Earhart…) et dans l'époque contemporaine (les ordinateurs, la télévision…). L'idée de départ, l'écriture manuelle à la plume est une arme de destruction massive et les écrivains des sorciers en puissance, est très bien trouvée et permet action, rebondissements et trouvailles en tous genre. Quant aux personnages, un rien stéréotypés au début, ils ont un vrai charisme, et l'apparition de nouveaux acteurs (Houdini, Amelia Earhart) complexifie leurs relations au début un peu simplistes. C'est presque dommage que le mystère, qui plane encore dans le tome 2, soit résolu dans le 3ème et dernier volume. Je trouve que c'est trop court pour un univers aussi original et aussi riche de développements potentiels. Peut-être aurons nous droit à une suite, ou à des spin-off? City Hall s'y prêterait bien. Wait and see.
On change complètement d'univers avec Les Îles du Vent, d'Elodie Koeger (dessin) et Hector Poullet (scénario), chez Caraïbéditions. Cet éditeur fait œuvre utile en promouvant le créole comme langue littéraire, je devrais dire les créoles des différents départements d'Outre-mer. D'abord en traduisant dans ces différentes langues (créole martiniquais, guadeloupéen, guyanais, réunionnais) des classiques pour la jeunesse (Le Petit Prince), des bandes dessinées (Tintin, Astérix, Titeuf), puis en publiant des créations originales (romans, polars, BD, théâtre, essais) et, pour ce qui nous intéresse, des « mangas français ». Le premier, c'est les Îles du Vent, donc, et j'en dois la découverte à Sedeto lors du Salon du livre. Merci encore ! L'histoire : Dionine, une jeune martinico-guadeloupéenne, fait la connaissance de Yann, douanier d'origine bretonne. Entre la fille des îles du Vent et le « métro » aux cheveux blonds, le courant passe. Mais pas de temps pour la romance : la famille de Dionine recueille Adama, un clandestin haïtien, qui s'est caché dans leur jardin. Que faire? Le devoir d'hospitalité les contraint à cacher Adama et sa soeur Meridjonne, dont le père assassiné était un opposant politique haïtien, car ils sont traqués à la fois par la police de l'Air et des Frontières, et par des ex-Tontons Macoutes. Dionine demande l'aide de Yann. Mais ce dernier, douanier, peut-il agir sans violer son sens du devoir?
Ce que j'en pense : beaucoup de bien ! Savoir si on est dans du « manga à la française » n'a ici plus beaucoup d'intérêt à vrai dire. A part le format, et le découpage, Les Îles du Vent a tout d'une bande dessinée classique : le sujet, la narration, et même le trait, à la fois réaliste et stylisé, qui ne verse pas dans l'imitation djeuns à la Dreamland ni dans les poses théâtrales (mais très fun) de City Hall. Les personnages sont campés par Elodie Koeger avec une grande économie de moyens, mais avec beaucoup de justesse, et la jeune Dionine a vraiment un charme fou. A côté, Yann est un peu falot, mais ça correspond au développement de l'intrigue, et il va évoluer, gagner en assurance et en maturité – pour conquérir le cœur de sa belle…
Le tout s'appuie sur un scénario solide et riche en rebondissements, qui fait passer des messages plus subtils que de simples « bons sentiments ». La tolérance et l'antiracisme ne se proclament pas, ce ne sont pas ici des poses faciles, mais bien la conséquence d'une lucidité dans l'observation et la compréhension du monde qui nous entoure. A ce titre, les personnages sont souvent ambivalents, et doivent lutter contre leurs propres penchants égoïstes – la mère de Dionine, qui n'aime pas les haïtiens, ou sa cousine, qui n'aime pas les métropolitains – deux aspects peu glorieux de la société antillaise. L'auteur, Hector Poullet, est un écrivain, traducteur et essayiste guadeloupéen qui milite de longue date pour la valorisation des langues créoles, et il connaît bien son sujet. Outre les éternelles questions d'identité, sont également abordés le problème du trafic de drogue (les Antilles comme plaque tournante du trafic de la cocaïne), et la géopolitique des Caraïbes.  Rassurez-vous, ce n'est jamais didactique (même si un index donne les clés de compréhension en fin de volume), mais ludique et entièrement basé sur la fiction. Les deux tomes parus des Îles du Vent forment un arc complet, et je vous les recommande vivement, c'est prenant et facile à lire, dès 12-13 ans sans problèmes. Un 3ème tome est en préparation, qui verra nos héros partir en Guyane, en tous cas je l'espère, car je n'ai pas d'infos sur l'avancée du projet. A suivre, donc?
Du même éditeur, changement complet d'ambiance avec Waldo Papaye, d'Alexandre Sainte-Rose, alias Toshi D, avec un titre surprenant et bourré d'humour, une vraie bonne surprise. L'histoire : en Guadeloupe, Tibo est un parfait branleur. Dragueur invétéré, inculte, fainéant, grande gueule, il est rentré contre son gré de métropole pour que sa redoutable et bigote tante le remette dans le droit chemin. Peine perdue : il va à la messe avec son lecteur mp3 et branche tout ce qui porte jupon. Pourtant, c'est lui que des sorciers puissants choisissent pour être le « zayan au chant du coq », le futur héros des îles de légende, un archipel caché où toutes les magies sont possibles… Tibo sera-t-il à la hauteur? C'est mal barré. Ce que j'en pense : des personnages au fort potentiel comique, des filles canon, de l'action, un voyage au cœur des légendes antillaises avec ses soucougnans, ses diablesses, ses quimboiseurs… Waldo Papaye brasse et détourne avec malice les codes du shonen (avec plein de références explicites à Dragon Ball, Fullmetal Alchemist, Pokemon) pour en faire un récit original, où chaque case est prétexte à se fendre la poire. Tibo le crétin obsédé sexuel, Yan son cousin nerd et puceau, Salinne la diablesse caractérielle, Banzou le lutin ninja, tous ces antihéros ne s'arrêtent jamais de s'envoyer des vannes, surtout dans les situations les plus improbables. Sous-titré Je suis une légende, ce premier tome présente les personnages et les amène dans un monde délirant à la One Piece, mais depuis sa parution il y a bientôt deux ans (juin 2011), sa suite est toujours en préparation. De la très bonne cuisine, si on l'aime épicée.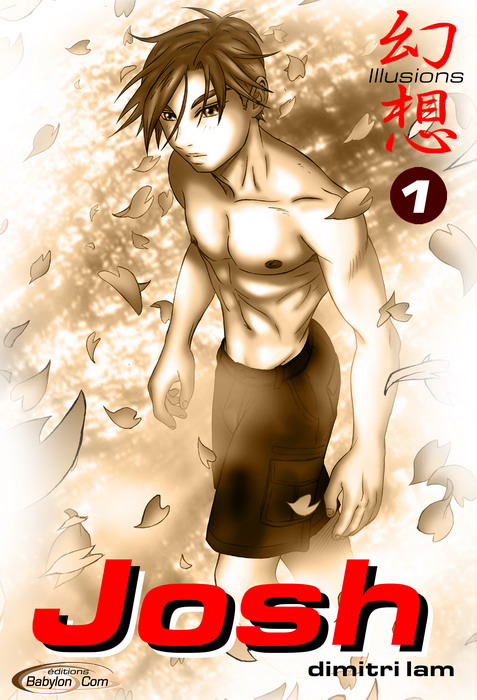 Pour finir ce panorama (que j'admets incomplet), voici un cas un peu à part : Dimitri Lam, auteur de Josh et de Delirium, deux séries complètement différentes dans l'esprit, parues en autoproduction (le label, Babylon Com, est une structure associative), que vous connaissez déjà si vous avez lu l'interview qu'il m'avait accordée dans le cadre de Japan Expo Centre, en octobre 2012. Il est un peu injuste de comparer ces deux volumes à ce qui précède, car l'auteur a un statut amateur (il est graphiste de profession) et diffuse ces titres en vente directe, sur les conventions et via internet. Au-delà du charisme évident de Dimitri, et du soutien qu'il est difficile de ne pas lui accorder quand on le connaît, sa production reste plus proche du fanzine que du manga. Lui-même le reconnaît : il fait ses bandes dessinées dans le style manga, mais il ne prétend surtout pas être un mangaka. Josh est sa création la plus délicate à évoquer, car à la base c'est un projet très personnel : mettre en scène son propre coming out, à travers la vie quotidienne de Josh, jeune dessinateur gay, qui est bien sûr l'avatar de Dimitri lui-même.
Attention, Josh n'est pas du tout un yaoi : c'est une BD gay explicite, qui s'adresse bien plus aux lecteurs de Têtu qu'aux jeunes filles fans de bishonen efféminés. Ce n'est pas porno non plus, hein, mais la sexualité y est abordée sans faux semblants. Le résultat est touchant, un peu maladroit, et ne plaira pas à tout le monde. Delirium est en revanche grand public, sur un canevas assez mince : une jeune écervelée cherche le prince charmant dans une forêt hantée. Cette non-intrigue est prétexte à un délire parodique, où les bôgoss rivalisent de poses avantageuses avec la bimbo de service. Résolument pas sérieux, le volume se termine sur une galerie de strips comiques bienvenus. Dimitri travaille sur les suites, Josh Tome 2 est à paraître sous peu, Delirium devra attendre un peu plus (dommage).
Ok, j'ai été plus bavard que j'avais prévu, alors que dire en conclusion? Que je ne sais toujours pas si le « manga français » existe réellement. A part Dreamland, qui soutient la comparaison avec les « vrais mangas » sur le plan, j'allais dire, logistique, les autres titres n'ont de manga que la forme, et encore, j'allais dire juste le format, et quelques inspirations. Ce qui les rend d'autant plus intéressants : en choisissant de conserver ce qui fait leur spécificité, c'est à dire leur origine frenchy, à la fois dans le sujet, dans les idées et dans le traitement, ils ouvrent une voie hybride, et ne se contentent pas d'imiter. Avec un défaut commun : un rythme de parution lent. Alors, donnez-leur le nom que vous voulez, mais surtout, donnez-leur une chance. Globalement, je n'ai pas regretté le voyage, et ces découvertes m'ont convaincu d'élargir mes horizons.
(Je remercie Laure Peduzzi de Pika, et Florent Charbonnier de Caraibéditions pour m'avoir gracieusement remis Dreamland et Waldo Papaye en SP. Je remercie encore Elodie Koeger pour sa super dédicace, Dionine est vraiment craquante. And last but not least, special thanks to Céline for a happy Easter!)